13 Feb

The Importance of the Camp Experience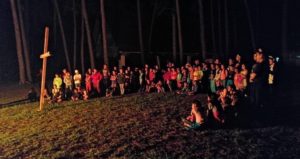 We just wrapped up our 6th annual kid's camp. It was an incredible two sessions filled with fun, laughter and plenty of Jesus. A total of 160 kids attended the two sessions of camp where the theme was "Jesus, My Hero." Our staff used many superhero activities and examples to show the kids how much they are loved by Christ. Unlike a superhero who gains power and wields it to attain glory for himself by saving lives, Christ gave up infinite power and glory, humbling himself to save everyone's life. Over the course of the two sessions, campers were able to have a blast, and at the same time, expand their knowledge of Christ's sacrifice.
Our main goals for the kids during camp are simple: keep them safe, give them a fun camp experience, and help them build a deepening and personal relationship with Jesus. Each year and each session of camp we make those three goals a priority. On a larger scale, we have dreams and goals for the camp itself. One is to see camp grow each year, which it has done consistently. Two is to build a culture of camp, where kids come back each year and view camp as a refuge and a supportive Christian community. Finally, we hope to see past campers come back to work as counselors. In that way, they can bring their own camp experiences into their new role and execute the position of counselor in an effective and powerful way.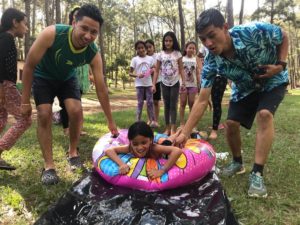 Since we have now completed 6 years of camp, we are finally seeing that final goal coming to fruition! This year, two of the counselors on staff were past campers, and next year we are excited to welcome even more! This is one of our main goals because it benefits both the campers and the counselors. A camp counselor balances fun with spirituality in an inspiring way, and campers see them as a role model. When a camper realizes that a counselor was once in their position, the admiration and emulation increase exponentially. On the other hand, a counselor who was once a camper is suddenly placed into a position of authority in the same camp where they attended. This increase in responsibility challenges a counselor in ways that help them mature as an adult and as a Christian. It is Christ's example and teachings on discipleship in action.
Although it's just for one week at a time, camp truly can transform people's lives! The longer a child or adult is involved in camp, the more profound that transformation can be. Countless campers in the older session expressed their hope and dream of being camp counselors. This speaks to the progress we are making in creating a culture of camp; a culture of building each other up and doing so through a shared love of Christ. We dream that in 10 years the majority of staff at camp will be past campers, who will help make camp a more fun and deeply spiritual environment than we can even imagine!