11 Sep

Enrique Gonzalez—Minister to the Deaf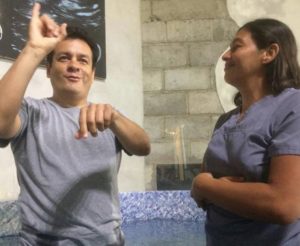 Enrique is a Mexican national who is originally from the Distrito Federal more commonly known as Mexico City. He is deaf and he has spent the last three years training in the Sunset International Biblical Institute to become an evangelist to the deaf. He is an excellent evangelist and Bible teacher. He is very animated when preaching and teaching and makes good use of visuals in order to communicate the message.
In July of this year, Enrique moved to Santa Rosa de Copán to begin working with Mission UpReach to reach more of the deaf population that lives here. He has made a 5-year commitment to Mission UpReach. We pray that God will prosper his ministry with us to the point that we make a major, lasting impact in the deaf community.
We estimate that there are 1,500 deaf people in our town including adults and children. Reaching out to these people is challenging because in this culture these people do not attend school and often are con ned to the "back room" at home. With the work that has already been done by Matt and Hannah Bridges, Abbie Wilson and others, we have a good base of people in the ministry through which Enrique will be networking to get to know others.
The excitement that Enrique brings to this group of people is contagious. You cannot be around them long before you too are excited about what God is doing in this ministry. Please keep Enrique and the deaf community of Santa Rosa in your prayers.