11 Jul

Local Church Hosts Choir Concert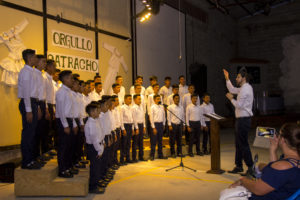 by Dakota Nowell
On Saturday night, June 16th, three choirs came together for the first concert of the year. The concert titled, "Orgullo Catracho" or "Honduran Pride" featured three different groups. "Los Bajos Altos", a choir of around 30 young men from the Moses Project started off the night with two traditional songs about the beauty of Honduras. Then, "CANTO" which is one of the DESEO after-school programs, performed three songs which included two soloists. The final Choir of the night, "Los CatraChicos," which is made up of children from the local church and former CANTO students and is the only auditioned choir, performed two songs including a Spanish rendition of "Remember Me" from the Disney/ Pixar film, "Coco".
With the Moses Project, DESEO, and the local church all represented, this concert was a great example of the dynamic that exists between Mission UpReach and the local church. While each choir is directed by Dakota Nowell, a MUR volunteer, the participants come from different areas where MUR has been working. Unfortunately, the Honduran education system puts very little importance on music and the arts so the majority of Hondurans grow up never learning how to sing.
While Hondurans sing with all their heart, you can imagine how this lack of music education would affect an Acapella worship service. Our goal with these choirs is to create a love and appreciation for music and train the next generation of song leaders and worshippers. We are excited to see how our efforts today will impact the church in the coming years.