10 Jun

Forward Progress for Subida Coffee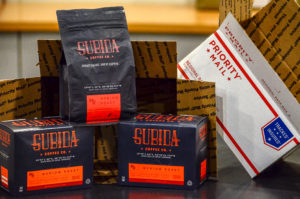 Everything we do at Mission UpReach is focused on developing people. Whether it is our values-based education program, evangelist team, school for the deaf, or the Moses Project, our programs all strive to help people build a relationship with Jesus. Our path towards sustainability highlights a desire we have to grow each and every one of our programs to better serve the community where we work. Subida Coffee is one of several businesses we have started that we believe will help us reach this goal.
We have heard from countless people about how much they love our coffee, but we have also heard that the shipping charges were too high. We have been working very hard to lower shipping costs and we are so excited to announce that it has finally happened! Shipping on all Subida Products has now decreased by up to 50%!!
We also have the exciting news that we are now selling Subida Coffee on Amazon! Success on Amazon heavily depends upon the review system. That is why we need your help. If you have been waiting to buy some coffee, or are in need of some more, head to Amazon and search for Subida Coffee and pick up some today! Also, be sure to leave a review. By doing so, more people will hear about the amazing products we offer and the incredible cause it supports.
Thanks again to everyone for the support, and as always, we hope you enjoy Subida Coffee and feel good about the work it is supporting.