06 Aug

Combining Churches for Success
The Pine Tree Church of Christ has been a vital part of Mission UpReach's success since our beginning in 2008. Their financial support as well as sending multiple teams of short-term workers has been consistent.
This month the Pine Tree Church of Christ (Longview, TX) joined with the West Broward Church of Christ (Plantation, FL) to form a wonderful medical team providing basic medical consults, medication, tooth extractions, eye exams, and glasses as needed. They were able to serve over 900 people during their short week here in Honduras. The cohesion and collaboration of the two churches was productive and impactful.
The West Broward church has visited before, but this time more of them came to work and serve. The attitudes of service and the energy for hard work not only resulted in serving a large number of people but also demonstrated to the community the love of Christ. We see consistently the opening of doors to evangelize in a community after such efforts.
Thank you, Pine Tree and West Broward, for your sacrifice and hard work!!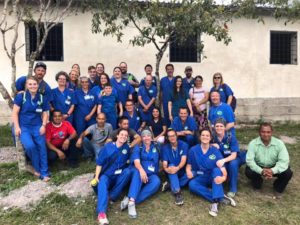 University Church of Christ and Montrose Church of Christ combined teams to serve in Puerta Belen, Lempira this month to meet the medical needs of a very poor sector of the country. A beautiful team of 22 joined forces successfully to lovingly and professionally serve the physical needs of some of the neediest folks we have encountered.
The church in Puerta Belen is relatively new but growing. They have recently built their own building that we were able to utilize for the brigade. They involved the church members in inviting folks to the brigade, reaching out to some of the most remote and needy communities surrounding their church. Almost 900 people responded to the invitation for the medical brigade.
This team decided to bring, in addition to the usual vitamins and medications, toys and personal hygiene items to give to each person who came through the clinic. That little touch added a wonderful element to the brigade. While the gifts were simple, they were so appreciated by the recipients. Our goal at Mission UpReach with visiting medical teams is to tap into the neediest of the community. All that come through meet that criteria but sometimes, as was the case with Puerta Belen, we tap into a sector of the population that is very evidently in need. It makes the usual satisfaction of serving others even greater.
Thank you, University church and Montrose church. May God bless you in return for the sacrifices you made!