12 Dec

A Note from Donna – December 2019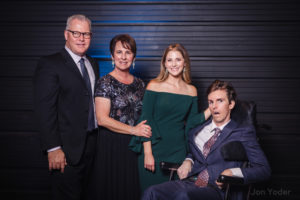 The fundraising event held in Nashville, TN was a huge success. One of the best honors of the evening was having our son, Harrison and his wife, Hayley with us to celebrate all that God has done in the past 10 years. I would like to share with you the words I shared at the event in honor of Harrison:
In 1998 our family of five became missionaries in Mexico. When we left Mexico and returned to the US our son, Harrison was 10 years old. For the next 6 years he asked almost weekly when we would be returning to the mission field. In 2008, we were at a crossroads in our life with a need to redirect.
It was Harrison who immediately concluded that our new direction should be to return to the mission field. It was his passion, his dream and his vision that caused us to look towards Honduras and eventually move there in 2009. Harrison served tirelessly, at age 16 to begin what is today a thriving mission that employs over 100 people. As many of you know, Harrison was involved in an accident that completely changed his life as well as those who love him. His presence here tonight is miraculous and inspiring. While Harrison has physical limitations, his spirit is alive and thriving. He is our inspiration to continue to fight the good fight. He continues to serve as a missionary. Thank you, son, for your faith, your courage and for the role you have played as an original visionary for Mission UpReach.
For those of you who were able to join us for the evening, thank you for attending. And a special thank you to those who donated generously. We have so many, many things to be thankful to God for.