03 Mar

DESEO and ESPERO Kick Off 2020 School Year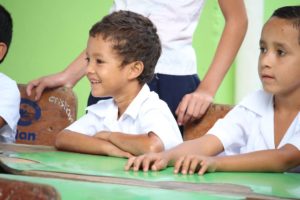 DESEO began working in schools again this past month, just after the new school year began on February 3rd. This will be the 10th consecutive year of serving the community with this program! They will be serving in eight elementary schools and two kindergartens for a total outreach of 1365 children. As many already know, this team of energetic young adults leads the collective school body of each school in a time of singing, prayer, and a skit of a Bible story followed by a values lesson in each classroom.
DESEO also includes afternoon basketball leagues and tutoring. In addition, the DESEO team helps conduct our annual Bible Camp for children from this program and the community. We believe, and have seen real evidence, that our investment in these children has great potential for effecting cultural changes as well as changing the lives of the individuals. Several teams visit each year and take advantage of the open doors in these schools to bring VBS style Bible lessons to these children.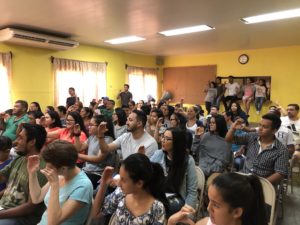 Our child sponsorship program takes our involvement and the impact to a whole new level by providing a supportive personal relationship between a child and their U.S. sponsor. If you haven't already sponsored a child, please go to www.deseoproject.org and select a child today. For less than one fast food meal for your family, you can make a life-long impact on a child's life and help us continue to serve the children of western Honduras.
Just as the Honduran school year kicks off in February, so does our deaf school for adults. This year we have 18 full-time students enrolled, and for the first time we have a group of 6th graders who will complete their elementary school requirements. We have also added a new full-time teacher for a total of two licensed teachers and two interpreters. A new and exciting development for this year is that Abbie Wilson is offering sign language classes to the local church, mission employees, family members of deaf students, and the general public.
It was our hope that more family members of our deaf students would attend. Very few of them know sign language, which seriously hinders their ability to communicate with their deaf family member. Sadly, not many have chosen to participate. However, the turn out from others has been overwhelming with a total of 70 people participating weekly in sign language classes. Abbie does a great job with the classes and even involves the deaf students in the teaching. Please be in prayer about this new school year and the continual outreach to the deaf community.