03 Mar

Tusculum Church of Christ Medical Team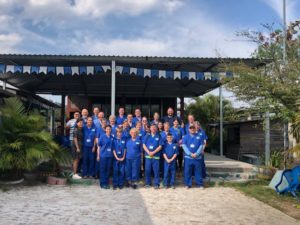 Again this year the Tusculum Church of Christ from Nashville, TN came to Santa Rosa de Copán in order to conduct a medical clinic. Last year for the first time, this group helped Mission UpReach open doors to the Gospel in Lucerna, Ocotepeque. They returned again this year and served 904 people with medical as well as vision checkups.
The people were so grateful, and their needs were evidenced by the large quantity of medications that were prescribed and dispersed (free of charge) to the attendees. One family said, "For us, this kind of help is a huge blessing. Many times when we have gotten sick we can't buy medicine, and now we are so happy and thankful that we have received it!"
This team also visited an eldercare facility in town on Monday afternoon where they served homemade chicken soup and sang to the residents. Joy was evident on their faces, and it was a fulfilling experience for the team. This year the Tusculum team brought four participants from Oklahoma City, OK as well as two from West Virginia. As teams like Tusculum invite people from other churches, those individuals go back to their home churches and share what God is doing. From that, new teams are developed, which has resulted in a growing number of visiting teams to western Honduras each year.
We appreciate the vision and service of the Tusculum church and look forward to many more years of working together to open doors to the Gospel.