21 Apr

A Note from Donna – April 2020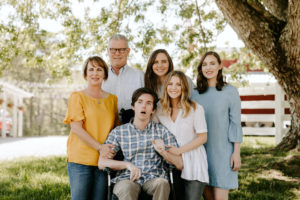 As I type this note, Phil and I are in the US after traveling to care for our son while his in-laws went out of town. While here, the Honduran borders closed without notice. It has been a bonus for us to be able to spend more time with Harrison, especially in light of the current events. With our daughter-in-law working as a surgical nurse at a hospital, the risk factors for exposure are greater than normal for her and for Harrison. Our oldest daughter, Sarah, is in New York, the epicenter for the virus as of this writing. Our youngest, Laura, is in Searcy staying in her rented house finishing up her Senior year at Harding University online. As is true with all Seniors, she is mission out on her last semester at a place she loves, and her graduation ceremony has been postponed until August. That is very disappointing for her, but in light of the seriousness of this problem and taking into consideration that many are losing their lives and their loved ones, it's a small price to pay for the greater good.
As I think about the "greater good," I am perplexed at what God might be calling us to as a family and as a mission. In Honduras, the government has forbidden any organization or company from laying off employees. We are obligated to pay salaries and benefits for the unforeseeable future, as Phil mentioned in his letter. This is a blessing to our employees, as there are no government benefits to fall back on. As this situation develops and the economic impact is fully felt, we will be faced with some really hard decisions in order to keep our doors open. Your continued support is so appreciated. We also recognize that some of you have lost your jobs, your retirement and possibly your loved ones, so we ask humbly and in full recognition that we are not the only ones struggling.
I just listened to a song that was recorded in our church in Honduras back in December. It's the Spanish version of "I Stand in Awe of You." I pray that none of us will take for granted the privilege and freedom of corporate worship when this is over. May the church be stronger and more faithful to our God, who is worthy of all praise. It is my prayer that the very real possibility of losing one's life, which actually exists every day, will cause many around the world to reflect on eternity and just where they might spend it. For those of us who are a part of God's kingdom, we can confidently face death knowing that through grace we are saved. May our passion grow so that we are proclaiming louder and more frequently the Gospel to a lost and dying (literally) world.
We ask that your pray for us, our family (especially our vulnerable son), and for the mission in the days ahead. We are committed to praying for you and trust the Lord has a plan for each of us as we navigate the days to come.