07 Oct

Seasons of Service

By Anny Tabora Molina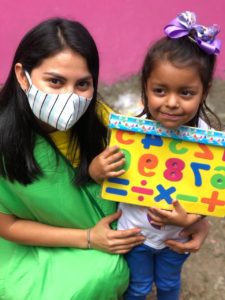 Seasons. Life is that—seasons. Some are full of pain, and others are unexpected. The truth is that we do not know what the next season of our lives will entail, but we can be sure of three things. First, each one can teach us an important lesson. Second, Jesus is present in each one of them. And third, we can serve others in the midst of difficult seasons.
One of my favorite stories from the Bible is that of Joseph. At a young age, he experienced such dramatic changes like going from being a spoiled son to being a slave and being in jail to arriving at the palace. Genesis 40:4(KJV) says, "And the captain of the guard charged Joseph with them, and he served them; and they continued a season under guard." This reminds me that no matter what season we are in, there is no excuse but to serve others as this gives meaning and purpose to our lives.
During this time of pandemic, the needs in my country have grown dramatically. The pandemic has not necessarily brought more problems, but it has deepened those that have already existed. I think God is prompting us to constantly ask ourselves, "How deep is our love for others? How willing are we to share our resources with those most in need? How limited is our service?" These and many questions have been on my mind lately. We usually limit everything according to our perspective, and we think that we can serve and love only in a certain way (the most convenient for us), but it's not like that. God wants to teach us many new ways to love and serve during this season.
Through Mission UpReach, I have been able to see God teaching us to serve and care for others. Even when circumstances are different and complicated, he has opened doors. Since I was a child, I have known a God who changes circumstances overnight and can multiply and provide from nothing. That was just what I saw with our recent Children's Day campaign. Our opening goal was to provide food for 100 families, and from one day to the next, God provided for 305 families. On that same day, He also provided food for 400 more families. That's the God I believe in. He never ignores or abandons the needy. Instead, when we serve and take care of the needs of others, God personally takes care of ours.
I want to motivate you to continue sowing into the kingdom of God through Mission UpReach. Perhaps making a donation does not seem like an act of service for you because you were used to serving in a different way, but do not limit yourself to what God wants to teach you in this season. As Joseph did when he was in prison, we also can serve others. When we are constantly thinking about what we need, the situation becomes more overwhelming; but, when we think about others, we discover that ours is not so difficult.
I want to leave you with a little story. As a child, my mother made us take some of our clothes to give to others. She always divided my snack so that I could share it with someone at school, and on Sundays she cooked the most delicious food of the week and we always had to share it with someone else. This made me very angry. It took time for me to understand why my mother shared the little that we had, but over time I could understand why. She was very grateful for everything that God provided for us, and that gratitude produced generosity. Generosity is born in a grateful heart; it is not because we have much to give, but because we are grateful and know that what we receive comes from God.