07 Jan

MUR Employee Spotlight-Claudia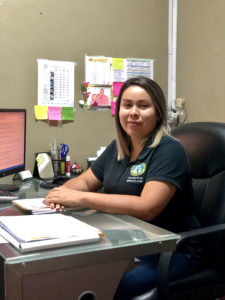 In this new year, we have decided to spotlight a different Mission UpReach employee each month.  Currently there are 125 employees, so unfortunately you will only get to meet 12 of them this year.  Our goal is to give you a look at the various roles individuals play in the day-to-day operations of Mission UpReach.
This month's spotlight employee is Claudia Mercedes Mendoza Toval. Claudia is originally from Nicaragua, one of Honduras' neighboring countries.  Claudia is a licensed attorney and serves the important role of Human Resources Director for Mission UpReach. Claudia met her now husband, Ramiro, while studying in the University.  They have one 7 year old son, Josías.  Both Claudia and Ramiro graduated from the Baxter Institute of Biblical Studies in Tegucigalpa, Honduras in 2018.  They did a short internship with Mission UpReach just before graduating, and we made them an offer to work with us full time.  Ramiro is the minister to our boys at the Moses Project.  Both Ramiro and Claudia are tremendous assets to the Mission UpReach team.  Claudia says, "I feel very blessed by the opportunities the Lord has placed in my path.  I love my job, and I love watching how God uses different people on the Mission UpReach team to bring about changed lives for His glory."
We are so thankful that God brought Claudia into our lives and that He is using her skills and education for His good purposes.