03 Mar

As Easy As 1-2-3!

Shout out to Martha Taylor and Karen Gage who collectively raised $1,625 through their Facebook Fundraisers for Mission UpReach in December!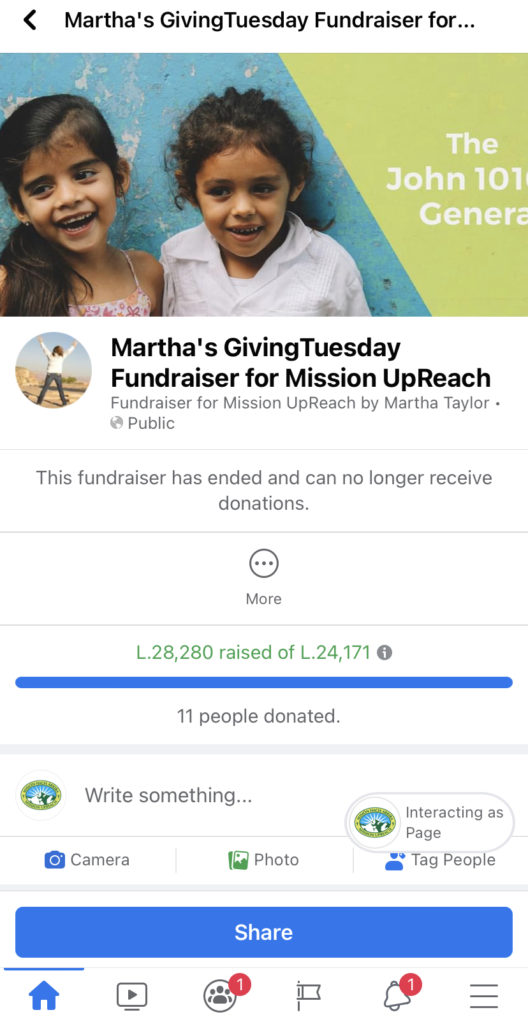 Not only is the monetary contribution making a difference directly in Honduras, but each fundraiser is helping us expand our reach to others who could partner with us. Anyone has the opportunity to become a spokesperson for Mission UpReach! It's as easy as 1-2-3…
1) Go to "Fundraisers" in the column to the left on your Facebook homepage.
2) Search Mission UpReach as the nonprofit you want to support and follow the instructions to set your fundraising goal and timeframe.
3) Lastly, invite, invite, invite! This is key. Invite people on your friends list and engage with them! Share often on your timeline: remember that not everyone will see something when you post just once. While some people may be hesitant to invite people on their friends list, remember you're giving them an opportunity to participate in something large and global. No problem if they are unable or unwilling to participate at this time – you've at least extended an invitation. Make sure to thank people as they donate and watch numbers go up! These people are donating to MUR because of YOU – because they love you, and they appreciate you (and we do, too)!
Dedicate your birthday (or any other day) to furthering the ministry of Mission UpReach and see how you can make a difference in the lives of those in need in Honduras!