07 Mar

A Note from Donna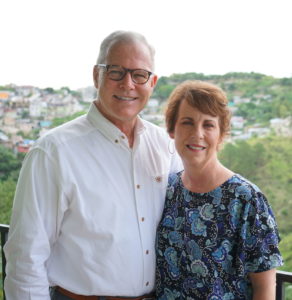 I had almost forgotten how wonderful it feels to take medical attention and medications to people in need.  The smiles, and sometimes the tears of gratitude, are so inspiring.  And I love to see the joy on the faces of those who come to serve.  I am grateful to Brad Russell for his great leadership bringing our first team in 2 years!
Our church family experienced a very tragic and deep loss in late February. One of our deacons drowned saving his family from a riptide.  Roberto left behind 6 children and a wife of 20 years.  He was one of my personal favorite communion reflection speakers and had a passion for doing things well for the Lord.  He and his wife Andrea are featured in our Year End calendar for the month of September of this year.  His passing is a reminder we seem to need frequently that life is very short and unpredictable. But the good news is our eternal destination is certain because of the blood of Jesus.  Please pray for Roberto's wife Andrea and his children as they navigate this life without him.
On a less important note, Honduras is finishing up the wave of COVID that first hit the U.S. and made its way here. Phil and I both had COVID in February, having escaped it for two years despite all our travels.  We both suffered little and commented that had it not been COVID we would have been working outside of our home per usual because it wasn't bad enough to stay in.  Fortunately, we are both vaccinated and boosted, which seems to be helpful.  Many have been infected, but very few have suffered more than the common cold.  We pray you and your family continue to experience the blessing of good health, always focused on what awaits us because of Jesus.