08 Apr

Floors and Ceilings and Such

By Phil Waldron

In last part of the year 2007, a Canadian, Christian, businessman named Phil Davidson, along with a small group of interested supporters and collaborators received the first young men that were incorporated into the Moses Project. Phil Davidson and his collaborators and supporters grew the project in succeeding years to include enough capacity to house up to fifty young men at a time.

Growth over the years from 2007 up to 2015 whilst under the direction of Phil Davidson included purchasing 55 to 60 acres and building a dormitory, kitchen and eating area that could house fifty boys at full capacity.

Mission UpReach took the reins of the project in July of 2015. Since then, the land mass of the farm has doubled. The Moses Project Farm now has a total of about 120 acres. Almost all of the land included on the Moses Project's farm is in production of either coffee, tilapia, or broiler chickens.

The dormitory facility that Phil and his Board constructed is a first-rate facility; however, the finishing touches were never completed. For instance, there is no ceiling in the bedrooms or hallways leaving the rafters and the underside of the roof decking exposed. There also were plans to lay down ceramic tile throughout the building, but there has never been enough money available to do so. In addition, the facility needs repairs and maintenance.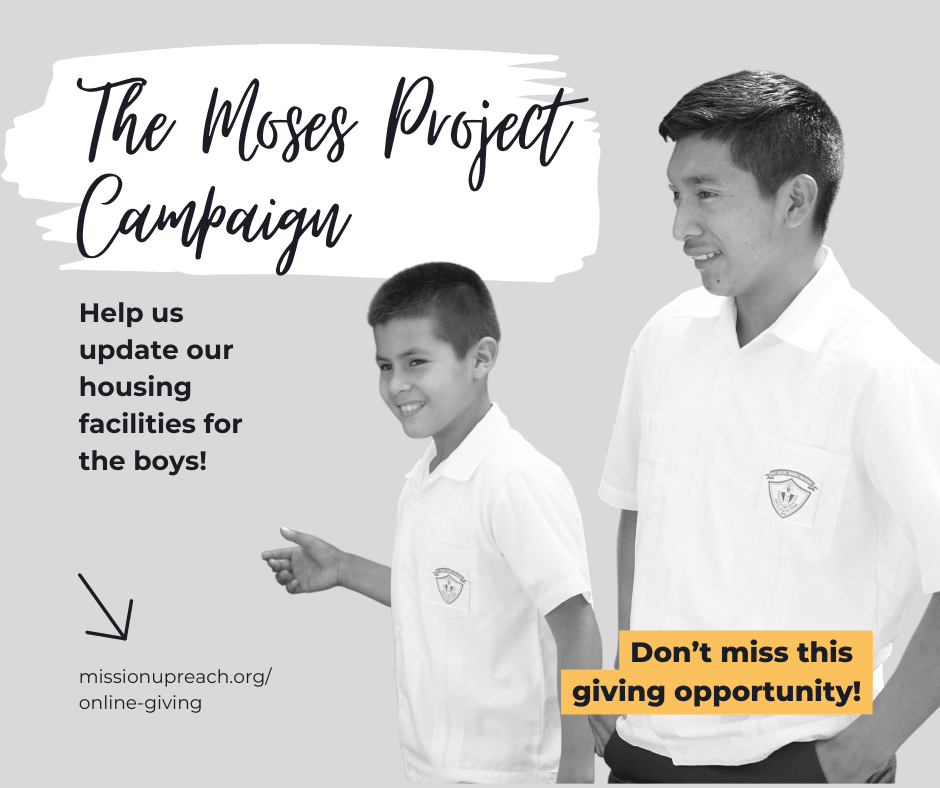 All of this to say that during these next two months, April 3rd through June 3rd , we are asking our donors and supporters to contribute to the funds needed for finishing the construction and completing the repair and maintenance. Just to give you an idea of the size of project we are describing here I offer this statistic. There is 10,032 square feet of floor that is bare concrete and needs to be tiled with ceramic tile. And there is almost that much square footage as well that requires some type of finished ceiling.
Our goal is to raise $100,000 in the next sixty days to apply to this project. This campaign will go a long way towards putting this facility in "tip top shape." Can you help us?
This time of year has traditionally been a time when our donors and supporters like to give towards specific needs that we have in our ministry. Often, we have received letters or notes accompanying a donation that says something like, "I got back an extra-large tax refund and I wanted to give towards your project."
If you are one of those people who like to give to Charity or to missions in the Spring of the Year, please consider giving to this Project. The improvements and repairs that we will make with your donation will serve an entire generation of young men going through our Program.
We appreciate your support. We pray God's blessings on you and yours.