08 Sep

"Surely God is With You!"

By Phil Waldron, CEO

Donna and I, our MUR Team, and the volunteer missionaries that work with us are blessed to be on the cutting edge of God doing great things here in the communities that we work in throughout western Honduras. However, one thing that has been reinforced over and over again during our 14+ years of work in the region is that our battle is "not with flesh and blood but spiritual forces of darkness." We have seen too many "coincidences" of bad things happening at "just the wrong time" that have a devasting effect on what we are doing. To date, God has delivered us from each and every one of these "traps" that the forces of darkness have thrown against us.

Recently, we had another "coincidence" that once again highlights what I am telling you about. Before I share the specifics of what happened I need to give you some background. During the month of June this year, a group of people with Disciple Trips, from Lubbock, TX held a village medical brigade in San José Copán. We were able to attend to 844 people with a medical consultation, medicines, vitamins, etc. Our church planter team, headed by Richar García, is responsible for going out into the community a few weeks prior to the dates of the brigade to distribute tickets that allow people to have access to the medical attention during the week. They also go back through the community after the medical brigade is over visit with people that have received medical attention during the brigade. We have found that this is the most effective tool that we have to open doors into the homes in a community.

A couple of weeks ago, Richar García and Carlos Umaña, two of our church planting team members were spending time in the San José community. After visiting several people in the small city, it became clear to them that San José is full of quite a few churches already. These two men and their fellow team members are passionate about planting new churches, so they decided to drive up into the mountains surrounding San José to visit some of the smaller, poorer communities that had people attend the medical brigade. What they heard over and over was, "we need a church here in our community." This excited both Richar and Carlos, but as they were leaving on the one lane muddy road that followed along the edge of deep gorge, the road caved in and their vehicle rolled down the side of mountain, flipping over and over a total of six times.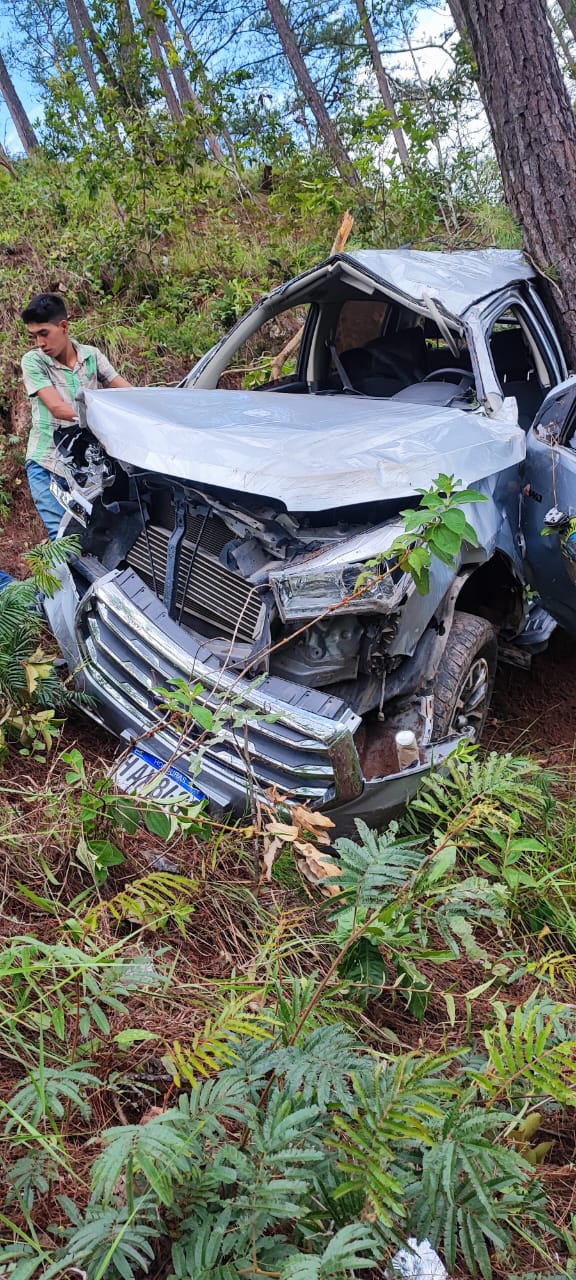 When the four-wheel drive pickup that they were traveling in finally came to rest, both Richar and Carlos had escaped serious injury and got out of the vehicle. They stood looking at the truck and the devastation that the fall had wreaked on the vehicle. Carlos turned to Richar and said,
"we need to stop and thank God right now for His protection because we both should be dead." Members of the community came to their aid and also said, "surely God is with you because you both should be dead."
When I heard these details, I was reminded of the story that we read about in the book of Acts in chapter 28. The Apostle Paul had been shipwrecked on the island of Malta. He and the other survivors made a fire to stay warm and as he was dropping a bundle of sticks on the fire a poisonous snake came out of the fire and bit him on the hand. The people from the island that saw what happened at first thought he was being punished by the gods for being a murderer or bad person but when Paul shook the snake off into the fire and did not die from the poison, they changed their mind and thought that he was a god.
This story about Paul is a little different from the story I shared with you about Richar and Carlos, but it does have this one thing in common: The Apostle Paul was able to do a mighty work on the island of Malta because of how God had protected him against the poison of the snake bite. I have no doubt that this serpent was sent out by the God's enemy, but because the people recognized that God was with Paul, after he explained that he was not a god but rather a servant of the God Most High, he was able to preach the Good News of salvation in the name of Jesus.
These people who witnessed God's providential protection of Richar and Carlos are convinced that God is with them. Please be praying for Richar and Carlos' work in this new community that God will open their hearts. And pray that He will establish a church there that is filled with men and women who not only love Jesus but have the passion to share the Good News with others in neighboring communities.